Food & beverage is a rapidly expanding industry, and with new challenges lying ahead, not having to worry about your equipment or meeting the ever-raising standard for hygiene & safety, is crucial for ensuring the successful operation of your facility.
By utilising stainless steel reels provided by Reel-Tech, many workplace issues can be eliminated: In the case that long lengths of hose may laying around on the factory floor, a hose reel can be installed to spool the hose unto, thereby eliminating a tripping hazard,
Or by choosing the correct reel for the application, worker fatigue and strain can be reduced, operator shoulder or arm strain is a complex issue, one way of minimizing this hazard is by installing a retractable hose reel, this allows operator's to freely pull out the hose to the desired length, and then seamlessly allows the operator to spool the hose back onto the reel, eliminating the need to manually rewind.
To further supplement the retractable hose reels Reel-Tech manufacture the Safe-R-Reel™ system, which further slows down the rewind speed of spring return reels.
Where dangerous and costly manpower is required to clean large tanks or vessels, a stainless CIP hose reel can be installed, eliminating the need for confined space entry and time spent manually cleaning vessels internally.
By making sure that your equipment is heavy-duty, safe and food grade, is vitally important, as maintenance can be a costly exercise both monetarily and in labour, this issue too can be minimized by the correct utilisation of hose reels suited for their application.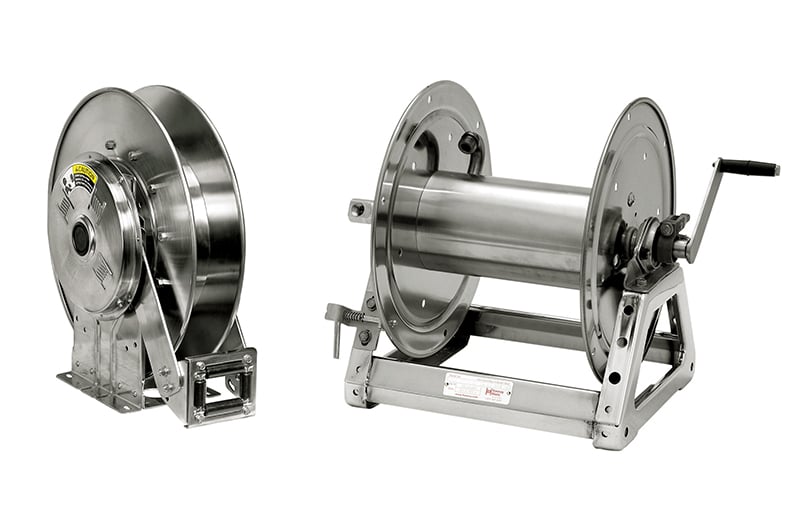 Stainless steel reels by Hannay provide the highest quality matched with rugged design, with heavy-gauge discs for added rigidity, sealed axle bearings and 304SS drums, have seen wide implementation across the food & beverage industry Australia wide.
By Cale Hart | April 15th, 2021 | Hose Reels - Mining - Quarry