Mining, workshop, transport operators and government department operators are turning to Pit Bull direct drive reels because of their patented design & safety features. With Pit Bull reels being engineered and manufactured in Australia to improve safety and battle the toughest and roughest environment.
What makes Pit Bull reels safer?
When designing new innovations, Reel Tech's core focus is on the ease of use and handling safety. Pit Bull™ reels can be integrated with a gearbox called Ezi-Deploy™ which is an easy to bolt on accessory for all Pit Bull™ direct drive reels. This is an auto de-clutching system that allows for easy delpoyment with the lowest resistance during hose pay out, thus minimising operator strain injuries and reducing the excessive force that can prematurely damage equipment. With no levers, buttons or electronics required, the operator can simply pull and work smoothly.
Made for the toughest and roughest environment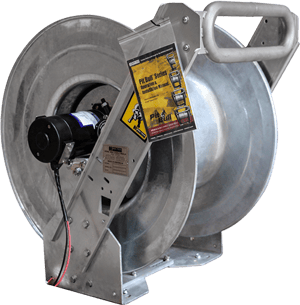 Manufactured in Australia with hot dip galvanised frame and disc components; and with mild steel or stainless full-flow hub, fasteners and either single arm or dual arm hose guide as standard.
Adaptable reels
Most people don't know that Pit Bull™ reels are designed with the patented quick-change hub technology, which allows the operator to quickly change hose sizes and diameters. Reel Tech has also recently released a range of easy to bolt on accessories for Pit Bull™ reels. These easy add-on options make Pit Bull™ reels the safest choice available worldwide.
Custom solutions
The Pit Bull™ range suits most hose sizes from ½" to 2" Internal diameter hose. Available in ultra-narrow up to oversized hose reels. Reel Tech has delivered numerous custom solutions from petite reels for restricted space applications, to fully automatic oversized reels. You can also improve the operator's safety and handling with easy to bolt on accessories like Flat Winder™ – an automatic hose layering add-on, and single operator remote control system. For more information about custom solutions, contact Reel Tech.
By Cale Hart | January 28th, 2021 | Hose Reels - Cable - Industrial